Pro Mailing Systems - The Mailing Experts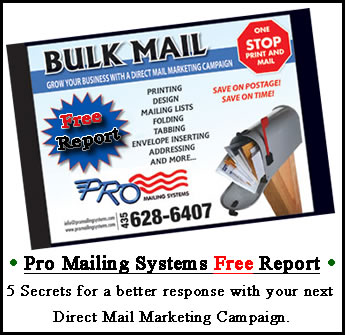 Tired of Mailroom Hassles? Let us do your next bulk mailing. Pro Mailing Systems offers complete mailing services to all types of businesses. We can handle all your direct mailing needs.
No matter how big or small your mailing needs are our expert staff can assist you through all phases of your job. This wll ensure you receive the most cost effective means for each of your mailing jobs.
Our office is always acquiring the current information on the never ending changes by the United States Postal System's (USPS) rules and regulations regarding Bulk Mail.
Whatever your needs may be, we will assist you, your design person, and printer with any design issues related to the rules of the United States Postal System. This service is very valuable and can save you a ton of money. At times the USPS can be unforgiving for beautifully designed mail pieces that do not meet the USPS specifications.
Pro Mailing Systems will work closely with you on your direct mail campaign to ensure the process runs smoothly.
As a small business, we are able to offer you a greater amount of one on one interaction of that you may receive from a larger, more impersonal corporation.
Call today . . . if you know about our services and think we can help, Together we can ease your mailing headaches. Call today to ask any questions, get estimates, pricing, mailing lists, etc . . .Our expert staff is here to help.